Slightly Obsessed #007: Word of God, Speak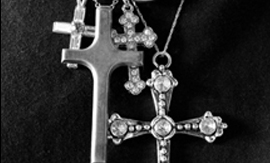 Word of God speak
Would you pour down like rain
Washing my eyes to see
Your majesty
– MercyMe
There is nothing so compelling as a person who listens.
The prophet Eli was an old man when Samuel began ministering in the house of God in Israel. In those days it was rare to hear the Lord speak, as were visions. Israel was a dead zone of sorts: Limited or no connectivity with God.
It wasn't that God didn't have anything to say. He was just waiting for someone who would listen.
Eli certainly wasn't listening. When his sons profaned the holy sanctuary, Eli looked the other way instead of rebuking them. Even when God sent a man to Eli with His own rebuke, Eli took no action.
But God would not leave His tabernacle barren.
He was already at work in the heart of young Samuel. Eli was so used to turning a deaf ear to God that at first he didn't understand what was happening when Samuel came running to him at dawn and said, "Here I am, for you called me."
The third time it happened, it finally occurred to old Eli that God was calling.
But God was not calling Eli, the seasoned prophet. He was speaking to Samuel, the boy.
In these last days, the voices are relentless. Everybody's talking. But God longs to find the person who is waiting in the dawn to hear His voice alone. He searches for the heart that springs to life at the call with the words He yearns to hear, "Your servant is listening."
Speak, for Your servant is listening.

– 1 Samuel 3:10