Slightly Obsessed #008: From Caveman to King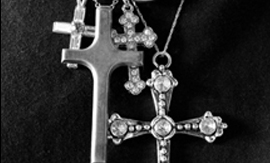 I cried out to You, O LORD;
I said, 'You are my refuge….'
Psalm 142:5
– A Maskill of David, when he was in the cave.
The young man David huddled in a cave and pondered his future.
He was so very far away from his beloved pastures, where he cared for his family's sheep and wrote his songs of praise to God. He loved being a shepherd. It was a common life, but a satisfying one.
Then God shook up his world. The prophet Samuel anointed David as new king of Israel, and it appeared David was destined to live in the palace. A series of events propelled David toward the throne: he became a national hero with the death of Goliath; he developed a close friendship with Saul's son Jonathan; he married Saul's daughter Michal.
Things were looking good.
When it looked as if David might really be a threat to his kingdom, Saul decided that David had to die. Jonathan warned David just in time to flee.
Now he dwelt in darkness, feeling very much unlike royalty.
From this dark place in David's life came many of the heartfelt and beautiful songs of Psalms. For thousands of years, believers have been encouraged through the work of the Holy Spirit in his life. Had he never suffered the indignity of this humiliation, we would not have these precious words upon which to cling when we are hurting.
His cave was a terrible place to live, but it became a place of safety from his enemies while God worked in his heart to transform him into the king he was anointed to become. The dark place you are in now serves the same purpose. Yes, it's dark and dirty. It does feel many times like God has forsaken you. But you are not there because God has made a mistake or forgotten His promises to you.
You are there because God is preparing you to receive those promises.
Therefore humble yourselves under the mighty hand of God,

that He may exalt you at the proper time,

casting all your anxiety on Him, because He cares for you.

– 1 Peter 5:6-7