Slightly Obsessed #024: The Resistance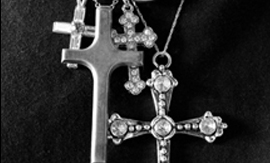 Upon this rock I will build My church;
And the gates of Hades will not overpower it.
– Matthew 16:18
Across the battlefields of Europe, nations fell to a brutal assault led by a maniacal killer.
As World War II raged under the boots of Nazi soldiers, a different war was being waged in the hills, cities, and fiords of occupied countries. Resistance groups formed and grew as citizens took up the battle and created an intricate underground network of individuals determined to fight their oppressors.
Whenever possible, they spread disinformation, refused to cooperate with occupation forces, sabotaged enemy installations, hid opposing soldiers, and engaged in armed warfare. At the risk of their own lives, they contributed greatly toward an eventual Allied victory.
Lesser known were the resistance movements against the Allied forces.
These groups ranged from Italian guerillas and the "Forest Brothers" of the Baltic States to a largely non-effective resistance group of German Nazis called "Werwolf."
Resistance against the good guys is the specialty of another enemy. Although mankind turned the keys to God's kingdom over to a rebellious angel named Satan, Jesus Christ bought them back at the cross. Since then, Satan has waged a deadly earnest insurrection against the King of Kings.
He knows he can't win. He's trying to inflict maximum damage as he retreats. He wants us to forget that God's won. He doesn't want us to know that we're no longer in enemy hands unless we choose to stay in captivity. The door to freedom is open. We decide whether we leave or stay.
Satan is a sore loser who wages a vicious resistance campaign in an effort to keep the victors on the run. He uses every tool at his disposal: propaganda, disinformation, intimidation, sabotage, seduction, torture, and outright armed warfare. Those Satan cannot deceive or intimidate, he tries to discourage.
He can only win if we surrender. The battle is won, but we have to occupy the territory. We need to listen to the Commander and actively resist the enemy's strategies.
Put on the full armor of God, so that you will be able to stand firm against the schemes of the devil.
– Ephesians 6:11
It's unthinkable to yield blood-bought ground by default. When the barrage begins, we stand firm, take up God's armor, and crush The Resistance. Let's fight for what's ours, beginning today.
Submit therefore to God.

Resist the devil and he will flee from you.

– James 4:7