I ASKED A.I. "Write a funny cowboy story about Skillet"
Sometimes you just have to laugh, right? AI can be useful and absolutely hilarious. I ASKED A.I. "Write a funny cowboy story about Skillet" and this is what happened…
I ASKED A.I. this…
"write a 100 word funny story set in the cowboy days using the real names of the four newest band members of the real band skillet"
(Sometimes you have to be very specific and repetitive)
IT GENERATED THIS HILARIOUS and RIDICULOUS RESULT…
John Cooper was the sheriff of a small town in the Wild West. He had a reputation for being tough and fearless, but he had a secret: he was afraid of horses. He always rode a donkey instead, which made him the target of many jokes.
One day, he heard that a notorious outlaw named Seth Morrison was coming to rob the bank. He gathered his deputies, Korey Cooper and Jen Ledger, and prepared to face him. But when they saw Seth riding a giant black stallion, John panicked and ran away, leaving his donkey behind.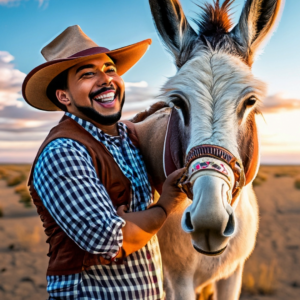 Seth took the donkey as a souvenir and rode away laughing.
This story was written in just a few seconds. Even the images were created by AI. Obviously this is just for fun, Skillet is awesome. Check them out HERE. If you have any ideas about what to ask next let me know in the comments!
All Answers by Microsoft CoPilot – Images generated by Adobe Express Generative AI